Fluidic Launches new PK1D
ORANGE COUNTY, CA – June 17, 2013 – Fluidic Systems, manufacturer of precision metering dispensing and spray systems, has introduced PK1D, a new platform of 2 component meter, mix and dispense equipment. The new PK1D incorporates the patented Fluidic's continuous Linear Displacement pump (LPD and Cross-Over Valve (XV2) technology.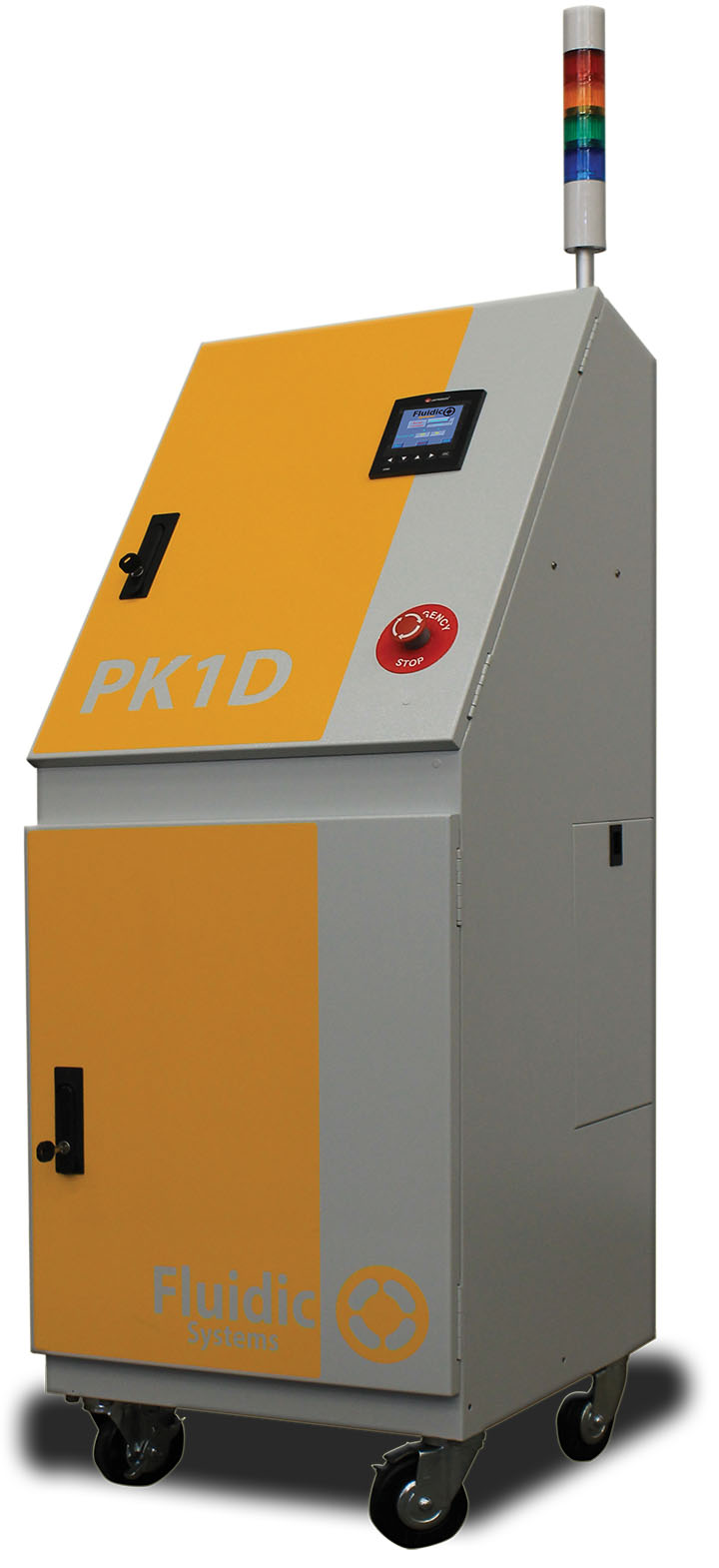 "Our systems could always meet the stringent application requirement that our customers' needs, being able to precisely meter, mix and dispense materials with a wide range of viscosity from 1 cps to paste and difficult to handle fluids such as the ones with Non-Newtonian rheology, highly abrasive, and heavily filled materials,. said Fabio Okada, Sales and Marketing Director. "With the PK1D, we can offer a more affordable solution to the same robust solution to customers that are looking for a lower flowrate unit and has a fixed mix ratio."
Measuring only 12" (300 mm) (d) vs 20" (510 mm) (w), it is the most compact platform offered by Fluidic. The system can be wall or frame mounted.
The system has a color 6" touch screen interface and can be actuated either by pressing the HMI button, foot pedal, dispense trigger or a signal from the robotic system.
About Fluidic
Fluidic designs, manufactures and markets precision metering dispensing and spray systems. Fluidic systems are available for processing 1, 2, 3, and 4 or more component material formulations for manual and robotic, spray or dispense applications. Founded in 2000 and headquartered in Orange County, CA, Fluidic serves a wide variety of markets, including general industrial, electrical and electronic, automotive, and military/aerospace industries.
For more information about Fluidic's PK1D or any other dispensing solutions, contact Fluidic at (7147) 556-6747, e-mail: This email address is being protected from spambots. You need JavaScript enabled to view it. or visit www.fluidicsystems.com